Pitches
The Happy Camping Village**** has 160 spacious pitches, all equipped with electricity
(max. 16 amp).

You're free to choose your camping spot, either in a secluded corner or near the bathroom and toilet facilities.
Spacious bathroom facilities, with WCs, showers, facilities for the disabled, washbasins and sinks for laundry and dishwashing, are all available in the immediate vicinity (and all have free hot water).

Campsite guests can also use the camper service
(grey water drainage) free of charge.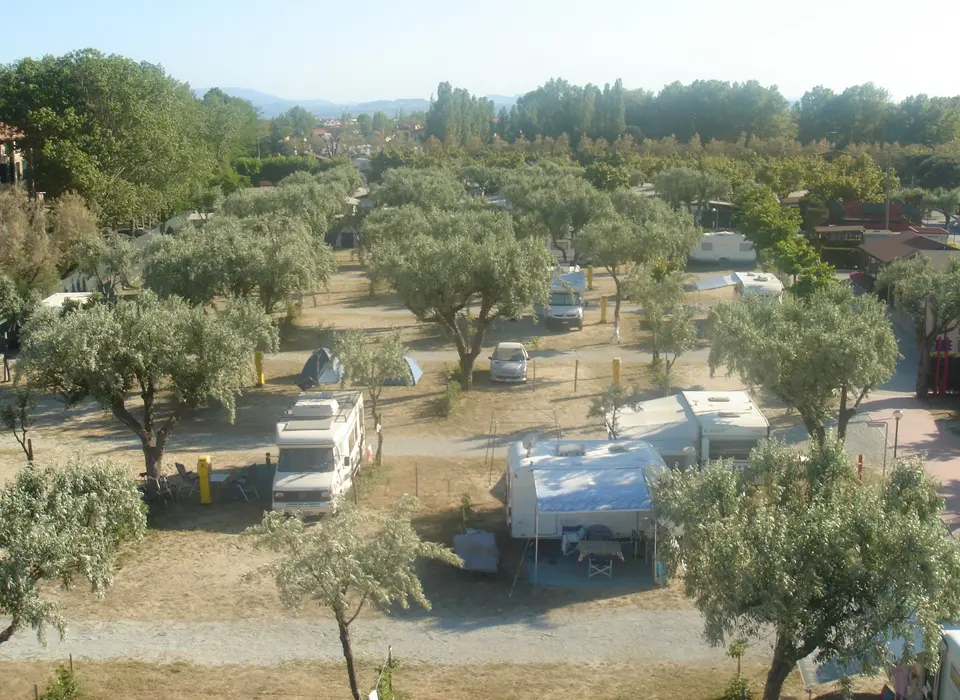 In the summer period, the following are included: use of the swimming pool, tennis and bocce courts, entertainment/mini-club and, on a minimum 3-night stay, beach services too (1 sun umbrella and 2 sun beds).

Pets are welcome on the campsite, at an extra charge.
Pricelist
PITCHES
Period
Adults
Children (aged 2-6)
Small pitch
Medium pitch
Large pitch
Plus pitch (water supply and drainage)
Power connection
Dog
2nd car
01.01.2023
14.05.2023
8
6
13
13
13
18
4
5
8
15.05.2023
11.06.2023
12
8
14
15
16
20
4
6
9
12.06.2023
31.08.2023
14
10
16
19
21
24
4
7
12
01.09.2023
30.09.2023
12
8
14
15
16
20
4
6
9
01.10.2023
31.12.2023
8
6
13
13
13
18
4
5
8
Calculate Quote
IN THE SUMMER, PRICES INCLUDE BEACH SERVICES (1 SUN UMBRELLA + 2 SUN BEDS), FOR A MINIMUM 3 NIGHT STAY.
In mid- and high-season, the minimum fee applies for the pitch, with or without occupants: 16/5-13/6 and from 22/8-12/9 pitch + 1 person - from 13/6-22/8 pitch + 2 people

BOOKING METHODS
To book, send an e-mail or call Happy Camping Village.
All bookings must be confirmed by sending a deposit by bank transfer within 3 days of the request. Booking fee € 10.00.

Postal orders should be made out to: Biondi Luciano, Via Panzini 228, 47814 Bellaria (RN) Italy
Details for bank transfers:
ROMAGNA BANCA
IBAN: IT87 T088 5267 7110 1101 0052 608
Payable to Biondi Luciano
Via Panzini 228 - 47814 Bellaria (RN), Italy


For organisational reasons, Management reserves the right to change the number of the accommodation unit or pitch assigned at the time of booking.

Accommodation units are available on arrival from 4 pm to 8 pm. Pitch arrival is 12 pm.
Accommodation units must be vacated on departure day by 10 am, pitches by 12 pm.
After this time, guests will be charged for the whole day.
Late arrival or early departure will result in payment for the entire period booked.
In the event of late arrival, the pitch will be available to guests until 5 pm on the day following the day booked. Guests are kindly asked to inform us of their expected delay by telephone.
Dogs of any size must be kept on a leash at all times.
During quiet hours, which run from 2 - 3.30 pm and from midnight -7 am, the very strictest silence must be observed; during this time, guests are forbidden to drive or ride any motor vehicles or to erect or dismantle tents.


CANCELLATIONS
In the event of cancellation, guests will be refunded the deposit or part of it, based on the following terms and conditions:
- 90 days before the start of the stay, the entire amount will be refunded, minus the booking fees;
- 45 days before the start of the stay, 50% of the deposit will be refunded, minus the booking fees.
- After this deadline, no refund will be given.


EARLY DEPARTURE
In the event of early departure, the entire period of stay booked will be charged (as per the booking confirmation).