Mobile homes
The mobile homes
(3-4 people)
in our village comprise a living room with kitchenette with utensils, fridge and a dinette/dining area that can be converted into a bed, a comfortable double room, a small room with two single beds, satellite TV and a bathroom with shower and WC.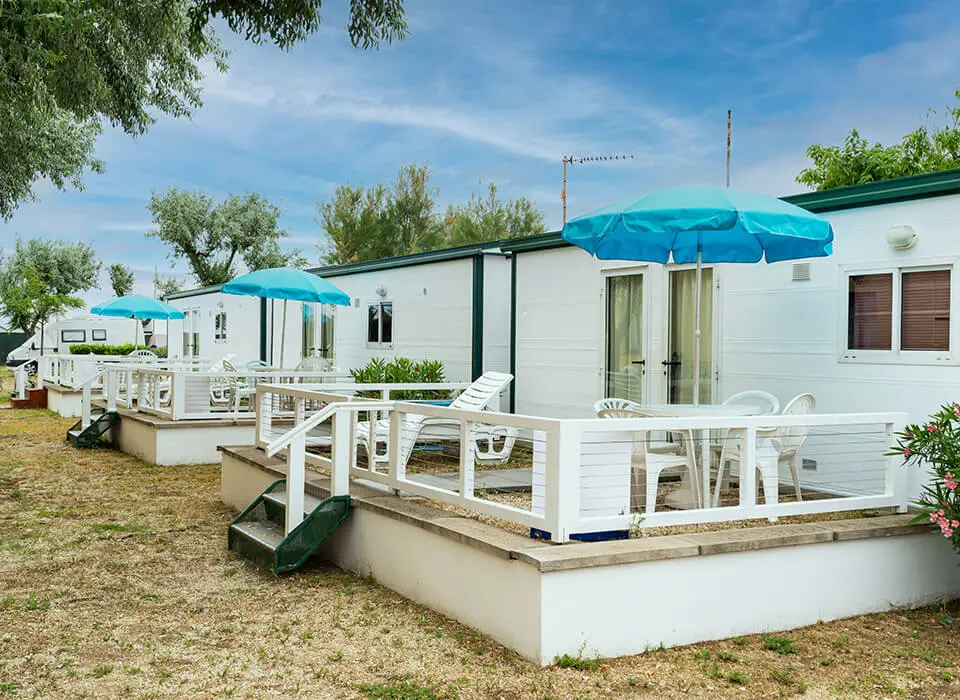 Air-conditioning is included in the price. Reserved parking space in front of the building.
In the summer period, the following are included: use of the swimming pool, tennis and bocce courts and entertainment/mini-club and, on a minimum 3-night stay, beach services too (1 sun umbrella and 2 sun beds).
Bed linen and towels are available on request at an extra charge.
Pets are welcome (an extra charge applies).
For full board basis, contact Happy Restaurant
327 2374796
Pricelist
MOBILE HOMES
Period
Nr. Mobile homes for 4 People
2nd auto
Complete Change bed/bathroom
Bedline
Towels
Dog
Extra bed
12.03.2023
02.04.2023
450
50
15
10
10
30
60
02.04.2023
20.05.2023
600
60
15
10
10
40
60
20.05.2023
17.06.2023
750
70
15
10
10
50
60
17.06.2023
26.08.2023
1050
80
15
10
10
60
60
26.08.2023
09.09.2023
750
70
15
10
10
50
60
09.09.2023
23.09.2023
600
50
15
10
10
40
60
23.09.2023
22.10.2023
450
50
15
10
10
30
60
Calculate Quote
Weekly bookings from Saturday to Saturday

BOOKING CONDITIONS
For reservation write or call to: Happy Camping Village. The booking must be confirmed by a deposit within 3 days from the request. Reservation fee € 10,00.

Our Bank:
ROMAGNA BANCA
IBAN: IT87 T088 5267 7110 1101 0052 608
SWIFT/BIC : CCRTIT2TRMB
Account on name of:
Biondi Luciano - Via Panzini 228 I - 47814 Bellaria

The management might change the number identifying bungalows/flats, received by booking, because of organization reasons.
Flats delivered from 4 pm to 8 pm on Saturday. Campspots from 12 am. Flats released by 10 am on departure day. Departure campsite (pitches) must take place within 12 am. After this time you will be charged one more day.
In case of delayed arrival or early departure you must pay the cost of the whole booked period. Reserved bungalows or flats will be kept until 5 pm of the following day at customer's disposal. Please phone to let us know you're arriving later. Dogs of any size must always be kept on leash.
During the silence time from 14.00-15.30 and from 00.00 - 07.00 it's strictly forbidden to make noise, use cars or any other vehicles and pitch or remove tents.

CANCELLATIONS
In case of booking cancellation the deposit will be refunded at the following conditions:
- within 90 days from the expected date of arrival the whole amount less the administration charges will be refunded.
- within 45 days the 50% of the deposit less the administration charges will be returned.
- No refunds will be made after the above date.

EARLY DEPARTURE
In case of early departure, the entire booked period (as originally confirmed) will be charged

Prices include air conditioning, electric light, water, gas, parking for 1 car for mobilehome, taxe etc.